2017/ Year of Rooster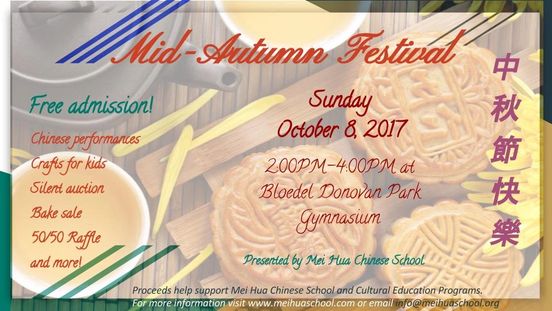 The Moon Festival, also know as the Mid-Autumn Festival 中秋節. It is a harvest festival celebrated by ethnic Chinese and Vietnamese people. The festival is held on the 15th day of the 8th month of the lunar calendar.
Mid-Autumn Festival is one of the most important traditional celebrations in China, along with the Chinese New Year (Spring Festival) and the Lantern Festival, which is the 15th day of the first month in the lunar calendar.
Gathering, such as family and friends coming together, or harvesting crops for the festival is one of the core concepts this festival celebrates. It's said the moon is the brightest and roundest on this day which means family reunion. And this is the main reason why people think mid-autumn is important.
Making and sharing mooncakes is one of the hallmark traditions of this festival. In Chinese culture, a round shape symbolizes completeness and reunion. Thus, the sharing and eating of round mooncakes among family members during the week of the festival signify the completeness and unity of families.
(source: Wikipedia)